Prime Day, peak season and the pandemic: Amazon warehouse workers brace for the months ahead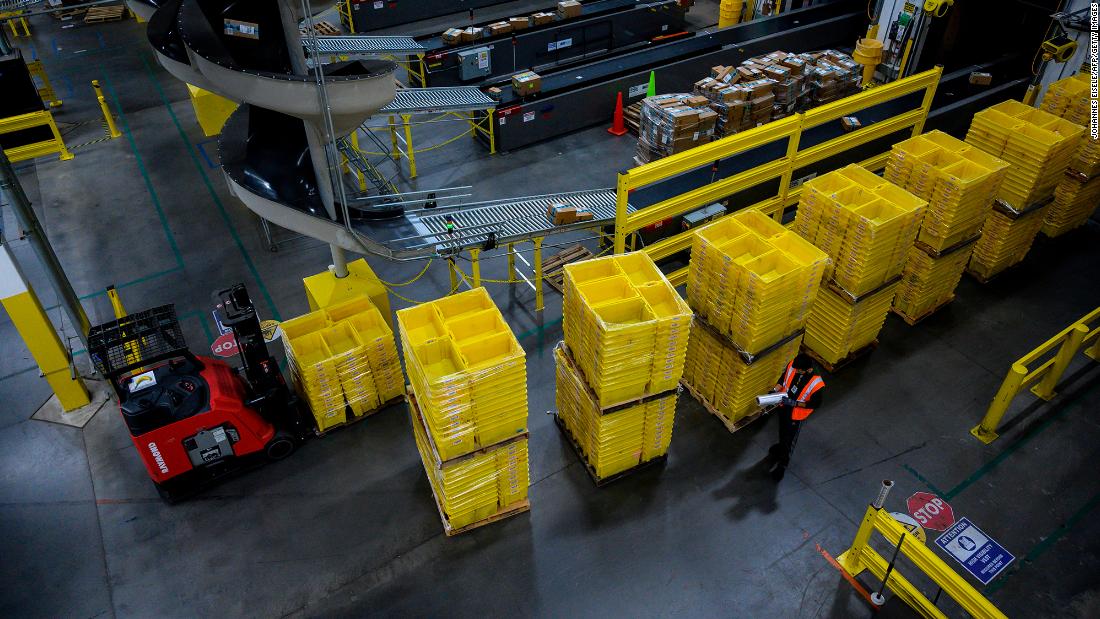 CNN Business spoke to ten Amazon warehouse employees about pandemic-related conditions and what it has been like to work past Prime Days and holiday seasons. Some spoke on the record, while others spoke on the condition of anonymity for fear of retaliation. Attitudes about pandemic-related policies varied depending on which warehouse, and which department, workers were in.
At one warehouse, workers expressed concerns about the ability to follow social distancing guidelines and being reprimanded if unable to do so. In others, workers were stressed in anticipation of the extra work.
Under normal circumstances, Amazon warehouses are teeming with activity and workers, but demand spurred by the pandemic sent that into overdrive. Beginning in March, Amazon hired 175,000 temporary employees to keep up with the surge in orders, later stating it would keep
70% of them
permanently. In September, the company announced plans to hire an additional 100,000 employees across its operations,
telling Reuters
it was still evaluating demand for seasonal employment. Last year it announced it would bring on
200,000 workers
for seasonal needs.
Following basic Covid-19 virus precautions, such as maintaining six feet of social distancing, can prove increasingly difficult in certain parts of Amazon (
AMZN
)'s facilities as more workers are on-site and as the volume of packages increases, six of the workers told CNN Business. So too can being conscientious about sanitizing work areas while keeping up with the pace.
Mandatory overtime is enacted during busy periods including around Prime Day, according to the workers who spoke to CNN Business, with employees at three locations saying overtime is scheduled for this week at their facilities. That means workers will be putting in more hours and spending more time inside the warehouses, making conditions evermore important. When asked whether the mandatory overtime was policy across all its facilities, Amazon did not respond.
During the pandemic, Gabby, an associate at an Amazon facility in Hawthorne, California who asked that only her first name be used and who has participated in a walkout over working conditions, said she has at times sacrificed speed in order to maintain social distancing or sanitize, and has received verbal warnings for not keeping up her productivity rate, something Amazon is known to track closely among its workers. Navigating this balance could become even more difficult as things pick up for workers during Prime Day and the holiday season.
CNN Business requested a further breakdown of cases between Wholes Foods and Amazon workers to understand how those rates compare with the general population. Amazon declined.
Terrell Worm, an Amazon associate at JFK8 in Staten Island who has also participated in a walkout, told CNN Business that knowing the aggregate number "doesn't really help" workers like him. "I'm worried about my area — that's what I want to know, how many cases in my building?"
While Amazon notifies workers about confirmed cases where they work, an Amazon spokesperson confirmed to CNN Business in May that it changed an earlier approach and stopped including numbers when confirming cases to workers.
"If Amazon wanted to illuminate the actual risk of Covid-19 and their success in controlling virus transmission, it would provide that actual number and rate of cases from each fulfillment center and Whole Food store," said David Michaels, former head of OSHA under the Obama administration and a professor at George Washington University.
"Nothing is more important than the safety of our teams. We have redeployed a large number of our data scientists, technologists, and operations employees to focus on Covid-19 and ensure the safety of our workforce, including thousands of individuals on our health and safety teams," Amazon spokesperson Kelly Cheeseman said in a statement at the time.
With their health on the line, worker activism has increased at a number of Amazon facilities during the pandemic — and with it, claims by workers that Amazon is retaliating, allegations the company has denied.
Regarding Warsame, Amazon spokesperson Jen Crowcroft said in a statement to CNN Business last week: "Like most companies, we have performance expectations for every team member. While we cannot discuss individual performance I can say, associate performance is measured and evaluated over time. We support associates who are not performing to the levels expected with dedicated coaching to help them improve. If their performance does not improve, corrective action is taken up and to termination."
(Warsame said she did not receive coaching; she said she plans to appeal her firing.)
Worm, the Staten Island worker, told CNN Business that he has "worries for the future." "Once the holiday season comes up, there's usually a lot more people in the building at once, I don't know how they're going to figure that one out."
Source Article
Feedzy